Hardware Repair & Maintenance

Each and every computer: Laptop, Desktop pc, Apple Mac, Notebook and or Netbook includes hardware and software components. Both of these two types of components are very important for the way in which the computer functions as a system.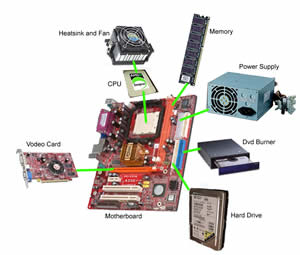 At Computer Place London we are experts in both hardware and software support and we do all our computer repairs in our store, we do not send computers out to anyone because we are fully trained and experienced in hardware support.
We do PC hardware Tune-up, Set up new PC or Mac, Upgrades for PC or Mac, resolving Hardware and Software Issues, upgrade memory RAM, upgrade hard drive, replace power units, replace keyboard, replace casing, replace or repair inverter boards and backlights, replace computer screens and lcd in 24 hours, upgrade processors (CPU), repair and or replace power connectors, charger, and power jack or dc socket, replace motherboard, repair or replace keypad, mouse pad and click buttons - there is no hardware job that we cannot do.
Areas Covered in London:

Computer support and maintenance e1 e2 e3 e4 e5 e6 e7 e8 e9 e10 e11 e12 e13 e14 e15 e16 e17 e18 wc1 wc2 ec1 ec2 ec3 ec4 n1 n2 n3 n4 n5 n6 n7 n8 n9 n10 n11 n12 n13 n14 n15 n16 n17 n18 n19 n20 n21 n22 nw1 nw2 nw3 nw4 nw5 nw6 nw7 nw8 nw9 nw10 nw11 se1 se2 se3 se4 se5 se6 se7 se8 se9 se10 se11 se12 se13 se14 se15 se16 se17 se18 se19 se20 se21 se22 se23 se24 se25 se26 se27 se28 sw1 sw2 sw3 sw4 sw5 sw6 sw7 sw8 sw9 sw10 sw11 sw12 sw13 sw14 sw15 sw16 sw17 sw18 sw19 sw20 w1 w2 w3 w4 w5 w6 w7 w8 w9 w10 w11 w12 w13 w14 London